Transform Your Outdoor Living Space with Local Deck Builders
Last updated May 18, 2023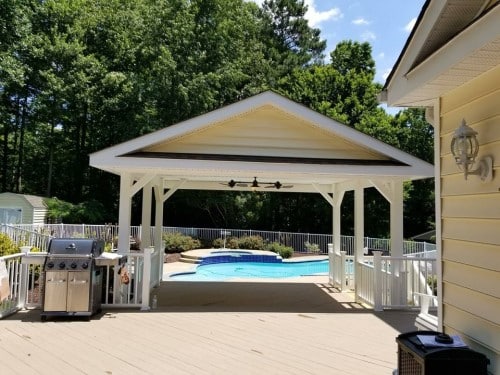 Are you looking to transform your outdoor living space? If so, local deck builders can be the perfect solution. They understand the importance of quality, safety, and aesthetics and will create a unique deck based on your preferences. From materials selection to structural design, elements like load-bearing posts, beams, and railings, are equipped to handle all aspects of the project.
In addition to providing a beautiful outdoor living space that you can use for entertaining guests or simply relaxing after a long day, there are many other benefits of hiring local deck builders. From the peace of mind that comes from knowing your project is in experienced hands to the cost savings from utilizing local resources and materials, there are many advantages that come with working with local professionals.
In this blog post, we'll discuss why working with local deck builders is beneficial and show you how you can transform your outdoor living space with their help.
Why Choose Local Deck Builders for Your Deck Installation
Hiring a local deck builder to enhance your outdoor living space can be a great choice for several reasons. For one, local builders are familiar with the nuances of building in your specific geographical area. They know about any special permits that are required and can help with navigating local zoning laws. Local deck builders also have an intimate knowledge of the types of materials that work best in your climate and what products will provide the most longevity in your area.
In addition, working with a local contractor provides you with the convenience of being able to contact them should you have any questions or concerns easily. You can speak face-to-face or call and not have to worry about communication delays associated with long distances. Furthermore, they're more likely to offer competitive rates since they're local and not trying to cover travel costs. The right contractor can help bring your outdoor living dreams to life, so it's worth taking the time to find a reputable one nearby.
Questions to Ask Prospective Deck Builders
Once you have a list of prospective deck builders in your area, asking the right questions will help you find the best one for your project. In addition to checking certifications and licenses, here are a few key questions you should ask:
How Long Have You Been Building Decks?
Experience is crucial when it comes to building decks, and it's important to make sure the contractor you decide on has enough experience with this type of work. Ask them how long they have been in business and what kind of projects they typically take on.
What Type of Materials Do You Use?
Make sure that your contractor is using top quality materials and equipment for your project. Ask them what type of wood or composite material they use, as well as what type of hardware and fasteners they use. These small touches can make a big difference in the longevity and appearance of the finished product.
Do You Have References?
Checking references from past customers is an invaluable step in selecting the right contractor for your project. Ask if they can provide references from previous jobs with contact information so that you can get first-hand feedback about their work and customer service quality.
How to Find Reputable Deck Builders in Your Area
If you're ready to transform your outdoor living space into something special, the first step is finding reputable deck builders in your area to help make your vision a reality. Fortunately, there are several key steps you can take to ensure you find the best deck contractor for the job.
Check References
Verifying past customer experiences is a great way to check a deck builder's reputation. Ask for references from previous clients and make sure to contact them directly to inquire about their experience with the builder. Also, be sure to ask if they would recommend the services of that builder again.
Look for Qualifications
Before hiring any deck builder, make sure they have all the necessary qualifications and certifications required by local building codes. Ask for proof of any certifications or licenses. This will protect you from any potential issues caused by improper installation or poorly executed construction techniques.
Get Bids and Estimates
Make sure to get bids from at least three different contractors in order to compare prices and services offered. The lowest bid should not be your only consideration – make sure that you are also considering factors like quality, warranties offered, and customer service before making a final decision.
By following these simple steps, you can ensure that your outdoor living space is in the hands of trustworthy professionals who will build it right! If you're a resident of Huntingtown, MD and surrounding areas and looking to transform your outdoor living space, contact Park Place Construction today at (443) 986-2329 for a free estimate!
FAQs
Does a deck need maintenance?
Yes, decks require regular maintenance to ensure their longevity and appearance. Maintenance tasks include cleaning, sealing, and staining the deck to protect it from weathering, UV damage, and rot. Regular inspections and repairs are also necessary to address any issues promptly and prevent further damage.
What do you call someone that builds decks?
A person who builds decks is commonly referred to as a deck builder or deck contractor. These professionals specialize in designing and constructing decks, utilizing their expertise in carpentry, construction, and outdoor landscaping to create functional and aesthetically pleasing outdoor living spaces.
How much does labor cost to build a deck?
The labor cost to build a deck varies depending on factors such as the size, complexity of the design, materials used, and location. On average, labor costs can range from $20 to $40 per square foot. It's recommended to obtain quotes from multiple contractors for an accurate estimate.