5 Top Tips On How to Achieve a Finished Basement
Last updated Sep 03, 2020
Having a Finished Basement in your home opens up a whole other level of possibilities — having another bedroom or two, an office, a sewing room, an additional family room, or just something that you can utilize as an extra space. Of course, that requires planning your finished basement's purpose ahead of time, so that it actually can be used in the desired manner you imagine.
Hiring a general contractor is typically a good idea when it comes to designing and building a finished basement, as basement finishing contractors can help their clients with materials, labor, and design. Their assistance can turn the extra space into a working, finished basement that will become a safe and secure addition to your home.
We've put together some top tips to keep in mind when considering adding a finished basement to your home. Always consult with a professional contractor before you begin any large renovations, to ensure that your home remains stable, secure, and strong throughout the work, and you don't encounter any unexpected surprises.
Develop An Idea Of What You Want Your Finished Basement To Look Like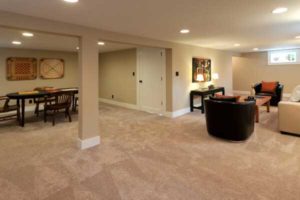 The first thing to think about when attempting any basement finishing project is what you'll be using the space for and what purpose it's meant to serve. The function of the finished basement will go a long way towards determining just what you want to put in the space and what will need to be done when it comes to framing the walls, shaping the space, and making sure that it's set up in the manner you need.
Basement finishing is difficult even when planning it out, but trying to get everything planned on the fly is bound to be even more difficult. Have a plan before you decide that you want a finished basement, and be aware that plans can change.
Talk To Basement Finishing Contractors To Find Out What Needs To Be Done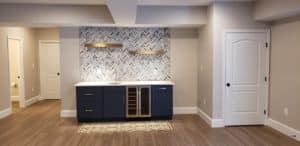 A general contractor who specializes in basement finishing will be able to take you through each step of the project. They will explain, in as much detail as is needed, what you'll need to do when it comes to basement finishing. From there the general contractor will speak to subcontractors that will specialize in various aspects of the job such as framing, plumbing, electrical work, drywall, painting, etc. Speaking to the general contractor is one of the first steps that's needed in order to find out what the job will entail and what you need to prepare for as far as cost, timeframe, and more.
Research Different General Contractors That Can Suit Your Needs
Speaking to licensed general contractors is your first task before anything, to get the job laid out and to help you understand just what the process will be like. A basement finishing contractor is going to come later, but it will be just as important to make certain that you can find someone that's competent and experienced to give you a finished basement that works for you and will increase the appeal of your home. Typically you'll find these kinds of subcontractors through a general contractor, but you can also do your own research and find those that you think are more up to the task.
DIY vs General Contracting: Pros & Cons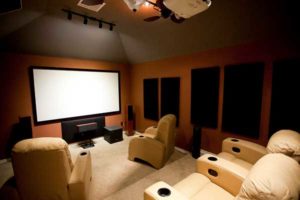 There are plenty of homeowners that have either been general contractors or have some experience in this type of work and are confident and capable when it comes to the process. The main pro behind a DIY project such as this is that you can make certain that everything is done according to your specifications. The main con however is that unless you are a skilled carpenter, electrician, plumber, installation technician, and painter, then you'll likely be hiring someone anyway to help when it comes to completing your finished basement.
The pros of talking to a general contractor are that they know just who to call, who's best for which job, and how to work within a budget. The one con you might want to worry about with any general contractor comes with those that are of the mind to tell you what you need instead of listening to you and offering feedback. Make sure you realistically consider your skill sets and knowledge of home structure before beginning a large job such as this.
When It Comes To Basement Finishing It's Wise To Ask For Help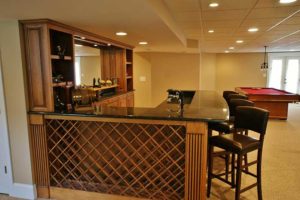 You can do this job on your own or talk to a general contractor for a consultation, but unless you have any experience in construction at any level, or in anything else that will be needed for your finished basement, it's a good idea to ask for help. General contractors make their living by helping people achieve what they want for their homes, so it's a safe bet that many of them are going to listen to what you want and accommodate your vision as much as possible. Always ask for help from other professionals in the field so that way your home stays sound and stable.
Wrapping Up
A basement finishing can make your home worth a lot more in the long-run, and it can offer your family a lot more space to move about in your home. When talking to general contractors, try to have a firm idea in mind of what you want, and feel confident that whoever you select to work on your home will do their best to give you what you want. Be thorough, do research, and prepare for some adjustments along the way. With the right help, however, it'll be a fast and professionally completed job.