Roofing Company Trends, Insights from Industry Experts and Leaders
Last updated Sep 18, 2023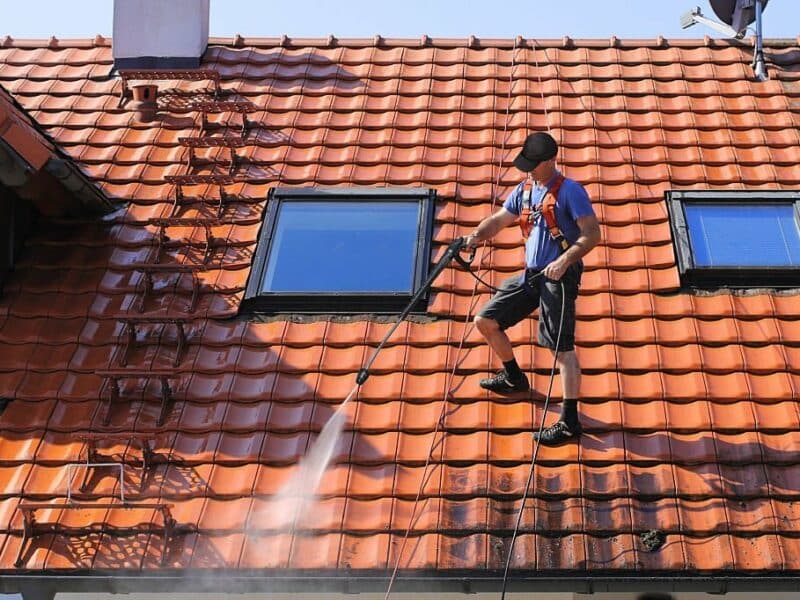 In the ever-evolving world of construction, roofing companies play a vital role in ensuring the safety and comfort of our homes and buildings. To shed light on the current trends and future directions in the roofing industry, we've gathered insights from industry experts and leaders.  These trends not only reflect the evolution of roofing technology and materials but also the changing demands and expectations of customers.
Durable Siding Options
When it comes to siding options for your home, durability is paramount. Several materials stand out for their resilience and long-lasting qualities. Fiber cement siding, composed of cement, sand, and cellulose fibers, is known for its resistance to moisture, fire, and pests. Vinyl siding, available in various styles and colors, offers exceptional durability against harsh weather conditions and requires minimal maintenance. Additionally, engineered wood siding combines the natural beauty of wood with enhanced durability through advanced manufacturing techniques. Finally, metal siding, such as steel or aluminum, provides excellent protection against the elements and can last for decades with proper care. 
Modern Window Replacements
odern window replacements offer a range of benefits. Energy-efficient designs with double or triple glazing improve insulation and reduce utility costs. Low-E coatings block harmful UV rays while maximizing natural light. Smart windows can be controlled remotely, enhancing convenience and security. Minimalist frames and sleek designs elevate the aesthetics of your home. Impact-resistant options enhance safety and durability, while noise-reduction features create a peaceful indoor environment. With a variety of materials and styles to choose from, modern window replacements not only boost energy efficiency but also add contemporary flair to your living spaces.
Basement Finishing and Home Additions
Basement finishes and home additions are excellent ways to maximize your living space. A finished basement can become a functional extension of your home, providing extra bedrooms, a home office, or an entertainment area. Meanwhile, home additions expand your living space to accommodate growing families or changing needs. Both projects require careful planning, design, and construction to ensure they seamlessly blend with your existing home while adding value and functionality. Whether you're looking to create a cozy basement retreat or expand your living space, these projects can transform your home.
Comprehensive Solutions
Deck Repair and Construction
Decks have become an integral part of modern homes, offering a space for relaxation, entertainment, and outdoor gatherings. However, as with any part of your home, decks require maintenance and occasional repair to ensure their longevity and safety.
Deck construction trends have evolved to incorporate eco-friendly materials and designs that harmonize with the environment. Sustainable wood options, composite materials, and even recycled plastics are being used to build decks that not only look great but also minimize their impact on the environment. The choice of materials often depends on factors like budget, maintenance preferences, and aesthetic preferences.
In terms of repair and maintenance, regular inspections are key to identifying issues early on. These may include rotting wood, loose or damaged boards, or unstable railings. Deck repair professionals can address these concerns and reinforce the structural integrity of your deck. Additionally, applying protective coatings and sealants can extend the life of your deck by shielding it from the elements.
Gutter Installation and Maintenance
Gutters are an unsung hero of home maintenance. They play a crucial role in channeling rainwater away from your home's foundation, preventing potential water damage and structural issues. The latest trends in gutter installation focus on efficiency, durability, and aesthetics.
Seamless gutter systems have gained popularity due to their sleek appearance and reduced risk of leaks. These systems are custom-fabricated on-site to fit your home perfectly. Additionally, gutter guards and screens are becoming more common to prevent debris buildup and clogging, reducing the need for regular cleaning.
Regular gutter maintenance is essential to keep your gutter system functioning correctly. Seasonal inspections and cleanings can prevent blockages and ensure proper water flow. Professionals can also repair any damaged sections or replace gutters if necessary.
General Services
Aside from these specific construction and maintenance areas, many homeowners find value in hiring general service providers who can handle a wide range of tasks. General service providers offer a convenient one-stop solution for various home improvement needs, from small repairs to major renovations.
These professionals often have a network of subcontractors and specialists, making it easier to coordinate and execute multifaceted projects like home remodels or renovations. They can also provide guidance on cost-effective solutions and help homeowners navigate the complexities of permits and regulations.
In today's fast-paced world, where time is often in short supply, general service providers can save homeowners time and stress by managing multiple aspects of a project, ensuring it stays on track and within budget. Whether it's a kitchen remodel, bathroom renovation, or a complete home makeover, general service providers are a valuable resource for homeowners looking to enhance their living spaces.
Contact Us Now!
Don't wait any longer to transform your home into the space you've always dreamed of. Our team of professionals is ready to help you create a beautiful and functional space that you can be proud of. Don't settle for subpar craftsmanship or unreliable service. Contact us today at (443) 968-232, and let's get started on turning your dream home into a reality.